Talk to an Expert Today! Call 724-266-1600 or Send Us an Email!
One Software Solution for All Layout Tasks

Trimble Field Link is the definitive construction layout software solution designed specifically for contractors. Featuring the right combination of tools for each layout job, this unified combination of hardware and software increases productivity and accuracy in the field, reduces rework, provides easy-to-use, task-based workflows and also delivers a greater return on investment. Available in Base, Core and Advanced Versions!
Advantages Include the Ability to:
View and execute field stakeout routines within 3D models created in popular BIM detailing packages
View field point attributes created in the office that define various data points such as manufacturer, component type and size, etc.
Collect field point deviations within the stakeout routines and export for use in BIM detailing solutions back in the office
Create design locations from CAD such as endpoint, midpoint, arc/circle, node, insertion and intersection
One Software for All Layout Tasks
Never switch between multiple software platforms or controller units again. Witha simplified user interface and improved, task-based workflows, Trimble Field Link works with a wide range of instruments for both interior and exterior layout including RTS Robotic Total Stations, the RPT600 Layout Station and Trimble GNSS receivers. Field layout crews can now use the most suitable positioning technology for unique layout tasks without switching between multiple controller units or field software, and without require any additional training.
Better Visibility – Connecting the Office (BIM) to the Field
Give field crews the visibility to the detailed information they need to make faster, more accurate decisions. Trimble provides contractors the only process for construction-ready BIM, connecting them to the important field details and actionable items for project visibility and ongoing maintenance. Featuring CAD-based field point creation solutions as part of the detailing process, contractors can easily export a design file and import it into Trimble Field Link, helping reduce errors and maximize productivity.
Modular Feature Packs – Get Only What You Need
Scalability and choice are essential when considering new software. With tighter budgets, contractors want to purchase a solution that delivers the functionality they need with scalability to grow. Trimble's modular feature packs provide contractors the flexibility to implement only the functionality that they need, and to scale incrementally as their business grows.
Customizable, Easy-to-Use Interface
With an interface that's simple to navigate and featuring the ability to customize views, users are up and running faster with less downtime for learning. Additionally, users have the ability to customize their view of the layout screen to view in full-screen mode, as a list, as a 2D overhead map, and as a 3D map. Featuring a "Bullseye" view in layout mode, horizontal and vertical in-tolerance notifications are displayed when the prism is near the field point.
Simplify Your Data Prep and Analysis of Field Data
Trimble Field Link Office is a simple and easy-to-use tool for preparing and checking layout data for the field. With the common interface between the field and office versions of Field Link, contractors experience increased productivity and more accurate data on their projects. Trimble Field Link enables contractors to:
Prepare layout points for the field
Double-check the files sent to field crews
Perform QA/QC on the already laid-out field points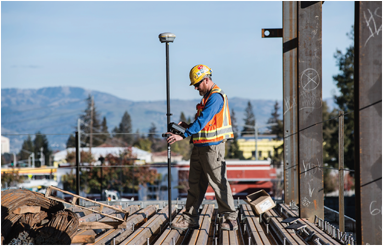 No CAD? No problem.
With 2D and 3D models or digital vector PDFs to prepare field data, many contractors require the use of CAD. With Trimble Field Link Office, no CAD is necessary. Trimble Field Link Office provides a simplified tool to prepare models and data for field crews to use with field layout tasks. It also prvides an interface to review data and reports that have returned fromt eh field and keeps this information as a record of the completed job.