Talk to an Expert Today! Call 724-266-1600 or Send Us an Email!
The Dependable, Lightweight, Handheld Scanner That Goes Wherever You Do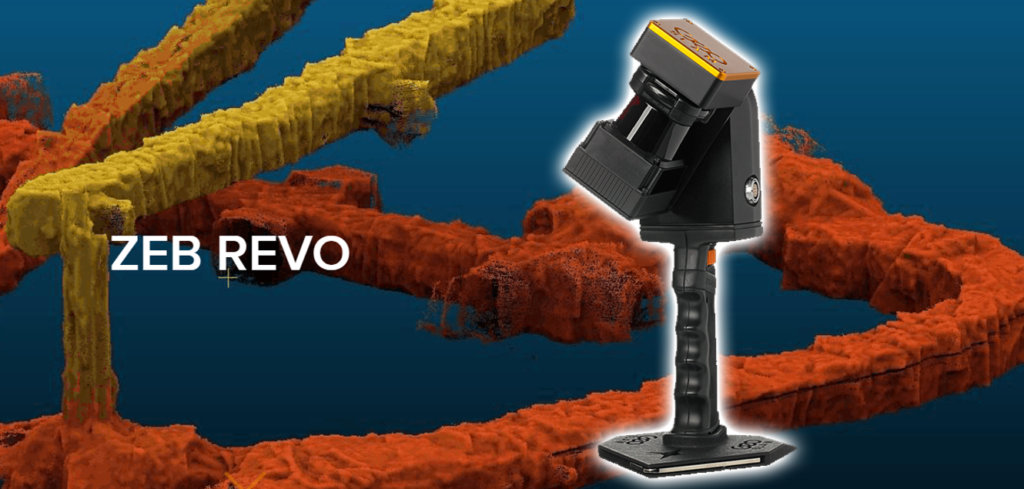 GeoSLAM ZEB REVO Features:
Simple operation
IP64 rating
Ideal for harsh environments, from underground mines to intricate caves
Complete whole scans quickly and share data quickly and easily, thanks to minimal data file sizes
GeoSLAM Zeb Revo Datasheet (CLICK HERE!)
About GeoSLAM Technology
GeoSLAM makes it easy to capture and connect data from the surrounding world. From the built environment to the natural world, GeoSLAM technology gives users the power to collect geospatial data from some of the most difficult environments, whether indoor, outdoor or even underground!
Pioneering highly-versatile and adaptable solutions using 3D SLAM (Simultaneous Localization And Mapping) technology, the GeoSLAM family of hardware and software solutions provide rapid and easy mapping, and highly-accurate monitoring solutions.
GeoSLAM technology is used globally by anyone needing to create a digital twin of their world, quickly and accurately. Some of the most recognizable locations scanned by GeoSLAM tech includ the Sydney Opera House, Lincoln Memorial and Arc du Tiomphe – all without bulk equipment or long setup times!
What You'll Love About GeoSLAM
More Competitive: Being able to offer rapid results to clients makes everything you do more competitive and gives you the potential to offer services to a wider degree
Ease of Use: GeoSLAM's scanners can be used by anyone, so you don't need to be a seasoned expert to create accurate 3D models
Go Anywhere: GeoSLAM can be used anywhere, from the tightest spaces to remote spots, without the need for GPS
Speed: If you can scan faster, you can work faster, maximizing your time and allowing you to determine layouts, calculate room size and produce floor plans within minutes
Continuous Data Collection: GeoSLAM's scanners allow for continuous data processing, which means you can see individual measurements, including topographical details alongside key features
Accuracy: From design, to construction and maintenance, GeoSLAM's scanners can be used to quickly and accurately scan and collect data at each stage of a building's development
Create and Manage a Digital Twin: For true project collaboration, effortlessly and accurately create a digital twin of any built environment, both indoor and outdoor