Talk to an Expert Today! Call 724-266-1600 or Send Us an Email!
Trimble Ri Robotic Total Station
Get the Job Done

Ri

ght the First Time
The Trimble Ri is Trimble's most scalable, accurate and automated total station, featuring easy setup for faster, more efficient positioning with minimal training required.

The Trimble XR10: Your Data. Your Work Site. Together, at Last.
The Trimble XR10 with HoloLens 2 brings mixed reality right to the front line, enabling workers in safety-controlled environments to access model data directly on site. Together with Trimble's suite of mixed reality software and services, the device enables new field-oriented workflows to leverage 3D content in daily work tasks to improve efficiency, productivity and quality of work. The Trimble XR10 is tailor-made to bring state-of-the-art mixed reality to where your work gets done.
Designed with the Field in Mind
Sporting a wider field-of-view, improved usability and a unique, flip-up viewscreen, the Trimble XR10 makes mixed reality work for you. The Trimble XR10 will have all of the same technical benefits of Microsoft HoloLens 2. Leveraging the cloud-based collaboration platform, Trimble Connect for HoloLens, workers are now able to realize the true value of their constructible 3D models and existing workflows in Tekla, SketchUp, Revit, SysQue, and more.
Trimble Connect for HoloLens
Increase confidence and reduce rework by effectively conveying and clarifying design intent and impact to all stakeholders
Maximize your BIM investment to track progress, quickly identify discrepancies and assure quality by overlaying models on the real world
Optimize and expedite coordination with stacked 3D data from multiple trades, both digital and physical
Accelerate decision making and reduce downtime by enhancing communication and collaboration between local and remote teams
Avoid disruptions in your data workflow; native support for .skp, .rvt, .dwg, .dxf, .ifc, .dgn and more!
Trimble Connect for HoloLens utilizes mixed reality for site productivity by providing precise alignment of holographic data on the job site, enabling workers to review their models overlaid in the context of the physical environment. With two-way communication to the Trimble Connect cloud, users always have the most up-to-date data on their site, literally. Trimble Connect for HoloLens utilizes mixed-reality technology to take your 3D content off the screen and into the real-world, providing project stakeholders with enhanced 3D design review, coordination, collaboration, and project management processes. Built on the cloud-hosted Trimble Connect collaboration platform, Trimble Connect for HoloLens is going to change how you think about 3D.
Trimble FieldLink MR: Full-On, Mixed-Reality Layout
Trimble FieldLink MR bridges the gap between digital and physical construction – allowing you to pair the accuracy and precision of Trimble's layout instruments with the visual context of mixed reality.
With FieldLink MR, control your total station to intuitively perform detailed layout workflows, all while being fully immersed in your construction design data.

Trimble SiteVision: Augmented Reality on Your Mobile Device
Transform complex data into simple and clear visualizations that give context to critical information on the jobsite, and do it all from a user-friendly augmented reality app on your mobile device. Give greater context and understanding to projects on the jobsite at 1:1 scale to make work safer, QA/QC easier, and both errors and wasteful change orders minimized. The visualization of complex data, positioned with high-accuracy GNSS, makees it easy to view spatial relationships more precisely to identify and mitigate structural, mechanical, electrical and plumbing (MEP) clashes sooner and more effectively.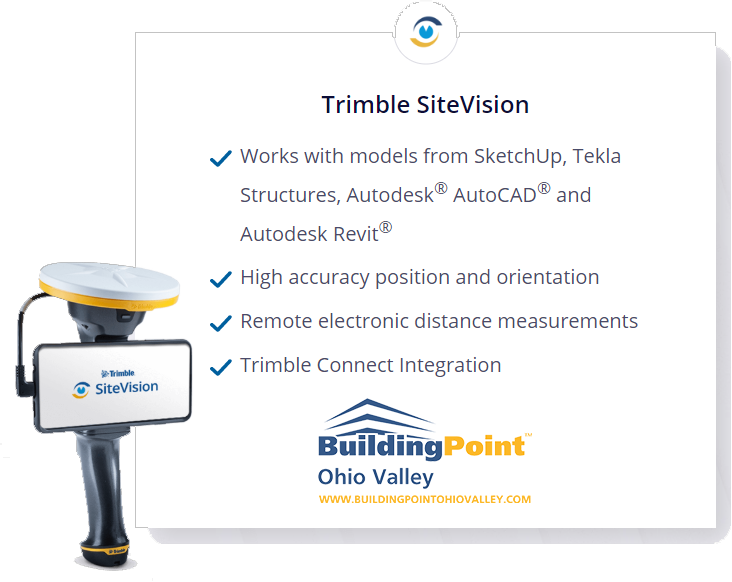 Data Support: Supports BIM models, .SKP, .IFC, and .DWG formats via Trimble Connect, including rich attribute support for data in .IFC and .SKP formats
Visualization Tools: Toggle between 2D and 3D views, adjust transparency for real-world design comparisons and see detailed, fully-textured models to easily communicate the visual impact
Reporting: Take augmented-reality photos and quick measurments, and add notes to create tasks, report status, request clarifications and share or assign them with projects numbers, all in real-time
Model Positioning: Geo-referenced models can be automatically or manually positioned and adjusted with incredible ease and accuracy relative to property boundaries or other critical points on-site