Talk to an Expert Today! Call 724-266-1600 or Send Us an Email!
Enabling Comprehensive Data Collection on the Worksite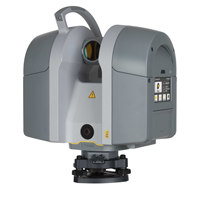 Key Features
Increased field productivity with the fastest, highest resolution scans on the market
Confidence in data accuracy, clarity and richness
True performance in real-world environments
Fast image capture to colorize scans with VISION technology
Intuitive and easy-to-operate
If your projects require both high quality and long range, the TX8 gives you unmatched versatility for both interior and exterior scanning applications. Whether it's capturing detail on the tops of tall buildings or gathering existing conditions on large building sites, the TX8 lets you do it all. Experience the ultimate in speed, quality and range. Typical construction applications include civil engineering, surveying, plant/industrial measurement, mining/quarries, urban areas, preservation, restoration, building/commercial construction and quality control.
Practical Innovation
Using Trimble's patented Lightning technology, the TX8 can measure one million points per second while capturing precise data over its full measurement range. Because Trimble Lightning technology is less susceptible to variation in surface types and atmospheric conditions, you can capture complete datasets from each station. To colorize scans, and integrated camera can quickly take full field of view HDR images. The TX8 streamlines work in the office as well. Its clean, low-noise data reduces processing time and the data loads direclty into Trimble RealWorks, enabling easy project collaboration via Internet Explorer. RealWorks also provides efficent data flow into popular CAD programs, as well as EdgeWise and SketchUp Software, for point cloud modeling.
High-Performance for Demanding Applications
The TX8 is ideal for capturing detailed data on existing conditions. Making high-speed measurments without compromising range or precision, the TX8 delivers the high-density 3D point clouds desgin and analysis professionals need. The Trimble TX8 provides a 360 x 317 degree field of view and captures full, high-density scans in only three minutes. It maintains high precision over its entire range of 120m with no need to reduce speed. Plus, it's avaialable with an optional upgrade to extending the range to an impressive 340m.
Rugged, Flexible and Easy-to-Use
A color touchscreen and one-button scanning make data capture easy and efficient. The TX8 has a rugged design with an IP54 rating and protected mirror to capture data in demanding environments and bright sunlight. Furthermore, its Class 1 eye-safe laser makes it safe to use in busy public places. Designed for mobility, the TX8 is powered by long-life, lithium ion batteries, and its wheeled transpot case conforms to most arilines' checked luggage requirements.