Talk to an Expert Today! Call 724-266-1600 or Send Us an Email!
Enabling Comprehensive Data Collection on the Worksite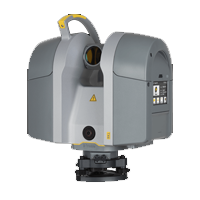 Key Features:
Increase field productivity with fast, high-resolution scans
Confidence in data accuracy, clarity and richness
Reliable performance in real-world environments
Fast mage capture to colorize scans with VISION technology
Intuitive and easy-to-operate
An optimal scanner for building construction applications, the Trimble TX6 combines the high quality output needed for precise data capture and the scanning-range appropriate for most building projects. Building Information Modeling (BIM) requires highly-precise inputs from the field. For mechanical, electrical and plumbing (MEP) projects and structural as-bults assessments, the TX6 provides the speed, quality and range to make in-field data collectionf ast and efficient Typical construction applications include Building Information Modeling (BIM), Virtual Design Construction (VDC), Pre-construction as-builts, quality control, preservation, restoration and plant/industrial measurement.
Practical Innovation
Using Trimbles patented Lightning technology, the TX6 captures precise data at high speed over its full measurement range. And since Trimble Lightning technology is less susceptible to variations in surface types and atmospheric conditions, you can complete datasets frome ach station. To colorize scans, an integrated camera can quickly take full field-of-view HDR images. Furthermore, the scanner's clean, low-noise data reduces processing time in the office. The data loads directly into Trimble RealWorks, enabling project collaboration via Internet Explorer. Paired with RealWorks, the TX6 can provide efficient data flow into popular CAD programs, as well as Trimble EdgeWise and SketchUp for point cloud modeling.
High Performance for Demanding Applications
The TX6 is ideal for capturing detailed data on existing conditions. By performing high-speed measurements without compromising range or precision, the TX6 delivers the high-density 3D point clouds needed by design and analysis professionals. It provides a 360 x 317 degree field of view. Typical scan times are just three minutes to capture 34 million points or six minutes to capture 138 million points. The TX6 maintains its high precision of the entire range of 80m with no need to reduce speed. Plus, it's available with an optional upgrade that extends the range to 120m.
Rugged, Flexible and Easy-to-Use
The Tx6's colortouchscreen display and one-button scanning make data capture easy and efficient. It also has an IP54 rating and protected mirror to capture data in demanding environments. Furthermore its Class 1 eye-safe laser makes it safe in busy public areas. Designed for mobility, the TX6 is powered by long-life lithium ion batteries and a wheeled transport case conforms to most airlines' checked luggage requirements.